WELCOME TO OUR BRAND NEW WEBSITE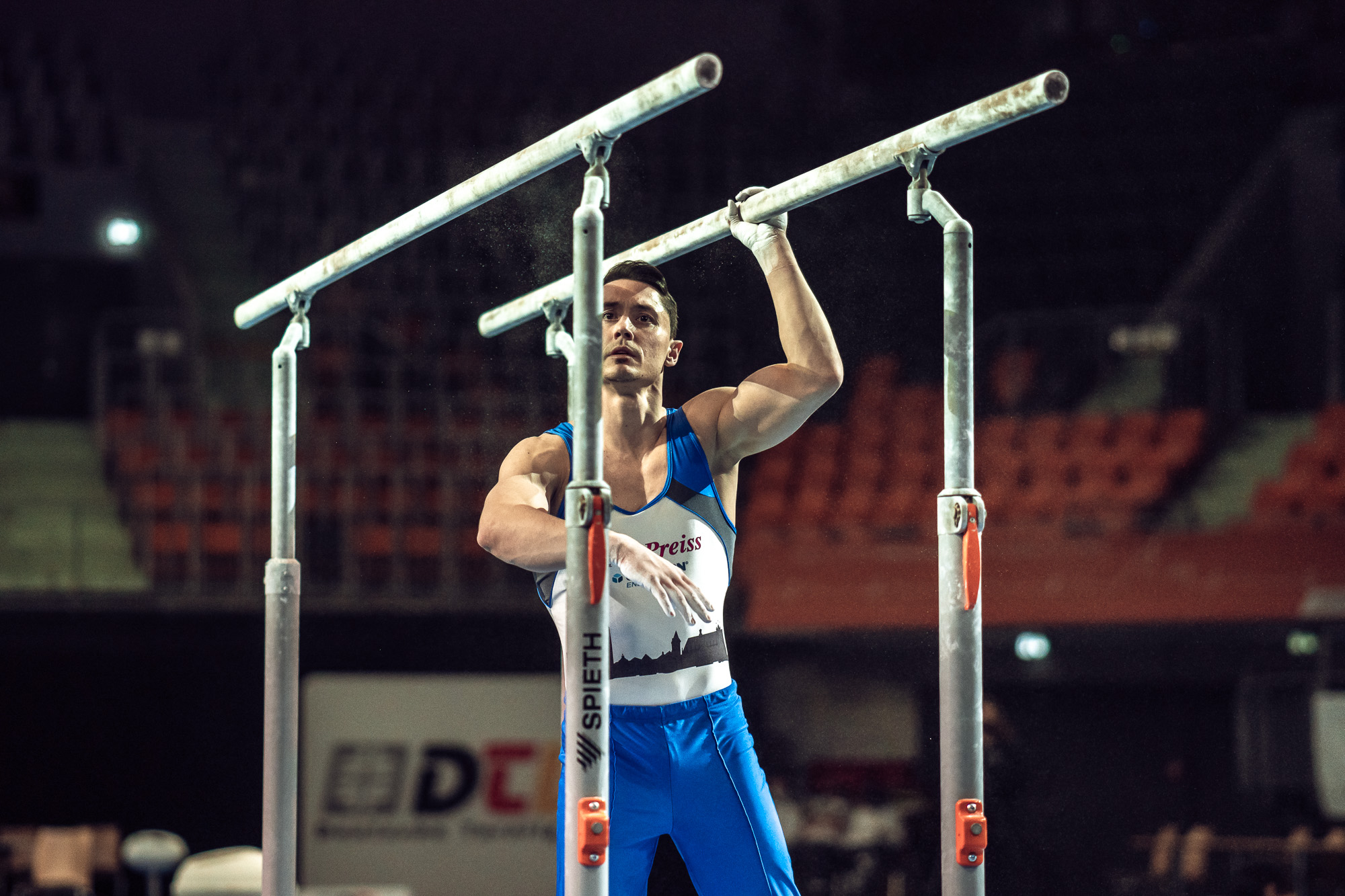 Our Philosophy
Reach the Maximum!
Our Philosophy
Safety in Gymnastics!
SPIETH considers itself responsible for the safety of the athletes that use its equipment, with its standards far exceeding those demanded by the leading authority on gymnastics equipment (FIG). FIG has thus approved the use of SPIETH products for many international competitions.
A dynamic and driving force for gymnastics!
The potential for creative development and performance improvement in gymnastics depends directly on technical progress in the construction of equipment. SPIETH and REUTHER rank among the leading names driving the field forward, having invented initial tension in gymnastic equipment. A pre-tensioned design supports a gymnast's motion sequences, ensuring greater levels of safety.
These days, people across the globe do gymnastics on SPIETH apparatuses that were developed originally by REUTHER. Applications include competition equipment for international events and for schools and sports clubs. SPIETH's products cover artistic and rhythmic gymnastics, acrobatics, tumbling and aerobics.
Experts associate the following essential quality criteria with SPIETH gymnastic equipment:
Effort-saving thanks to motion-supporting construction concepts
Safety through selection and use of the best materials
Dynamics assured by coordinating all relevant parameters
Premium standards thanks to continual monitoring of processes and materials
For many years, SPIETH has been a specialist in the equipment of training centres, supporting those involved with its experience, from planning up to realization.
If there are any questions, feel free to contact us – we will gladly assist you! We look forward to providing you with obligation-free advice!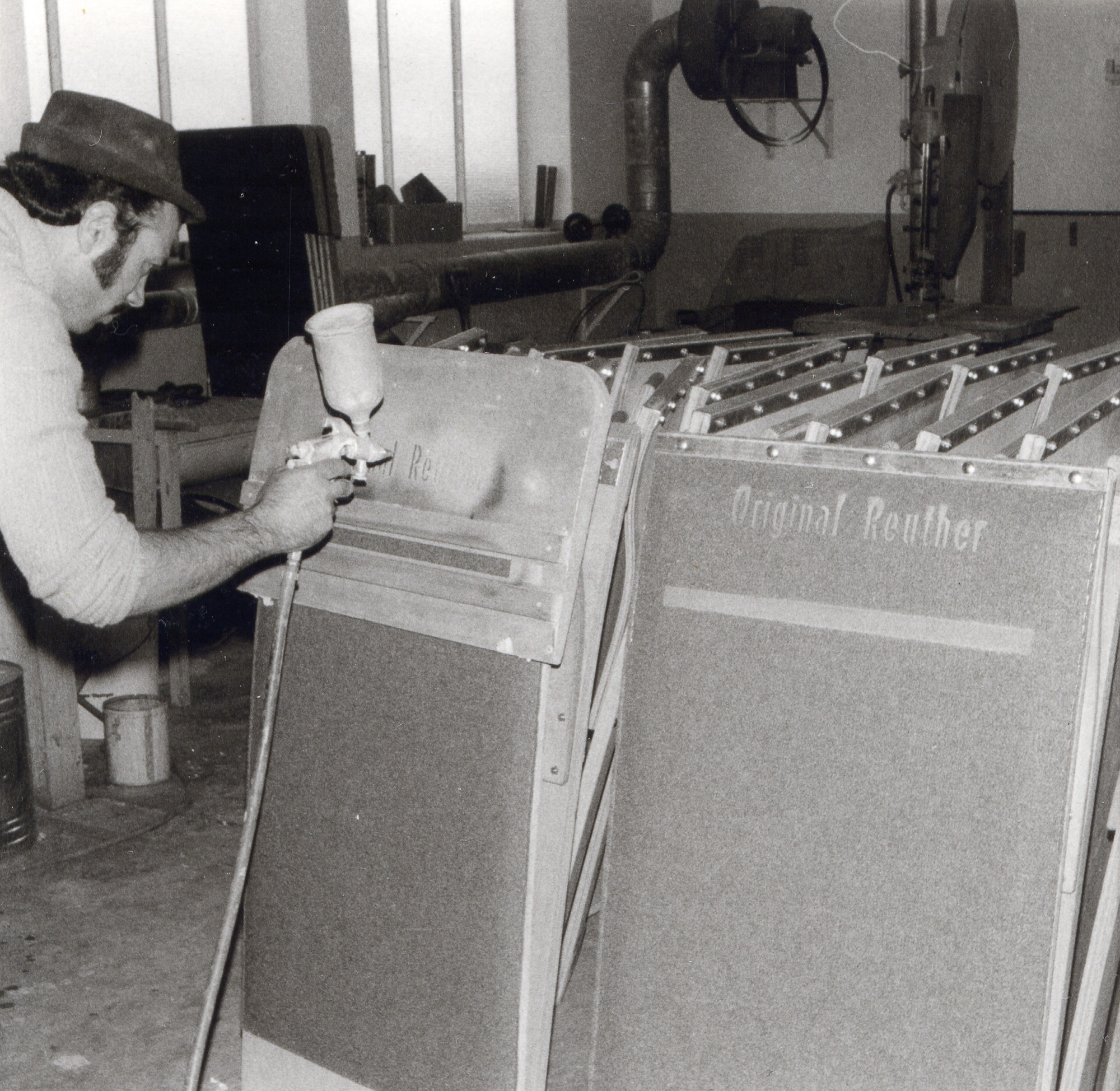 History and Tradition

Nowadays people all over the world practice gymnastics on SPIETH apparatuses that are produced in our newly built headquarter in Southern Germany. The roots of the SPIETH company go back to the year 1831. We are proud of the history of the SPIETH company.
SPIETH's range of equipment is used not only by schools and sports clubs, but all the way up to major international competitions. The products cover artistic and rhythmic gymnastics, acrobatics, tumbling, aerobics and Just For kids.
This is a history of innovative and creative traditions being applied to drive progress in the field of gymnastics equipment. Get a taste of that market-leading progress below!
1831: Company founded in Esslingen – originally SPIETH was a carpenter's shop.
1953: Rudolf Spieth and Richard Reuther, both passionate gymnasts, started making gymnastic equipment. The company SPIETH Holztechnik GmbH developed the production methods to construct the new gymnastic apparatuses. Richard Reuther developed the pre-tensioned wooden springboard.
1956: The newly created wooden springboard was used at the Olympic Games in Melbourne.
1964: The company moved from Plochingerstraße to Zeppelinstraße in Oberesslingen to a larger buildung. The wooden gymnastic apparatuses were produced in the factory in Wernau.
1968: SPIETH started exporting gymnastics equipment to more than 40 countries around the world.
1972: SPIETH is official supplier of the Olympic Games in Munich. At this opportunity SPIETH presents its new rollable mats.
1974: The new rollable floor is officially on duty.
1976: SPIETH is official supplier of the Olympic Games in Montreal.
1980: The complete production moved to Zeppelinstraße in Oberesslingen.
1988: SPIETH is official supplier of the Olympic Games in Seoul.
1991: The mat's and floor's color changed from yellow into the well known typical "SPIETHblue".
1992: SPIETH is official supplier of the Olympic Games in Barcelona.
1994: SPIETH started producing "Just for Kids"-gymnastics apparatuses. At first the gymnastic equipment was delivered from the former partner Spieth-Anderson in Canada.
1996: The business name changes to SPIETH Gymnastic GmbH instead of Spieth Holztechnik GmbH.
1996: The "Just for Kids" equipment is manufactured in Esslingen itself.
2004: SPIETH is official supplier of the Olympic Games in Athens for Rhythmic Gymnastics.
2008: SPIETH is official supplier of the Olympic Games in Beijing for Rhythmic Gymnastics.
2010: The Freestyle-Park in Laax is equipped by SPIETH – a completely different and fantastic indoor- project aside the projects in gymnastics.
2013: New construction of SPIETH Gymnastics GmbH and move to the new company building in Altbach from Oberesslingen to the new building in Altbach.
2014: Vaulting table Ergojet Rio
Benefit from this prestigious background by using SPIETH equipment for all your gymnastic requirements.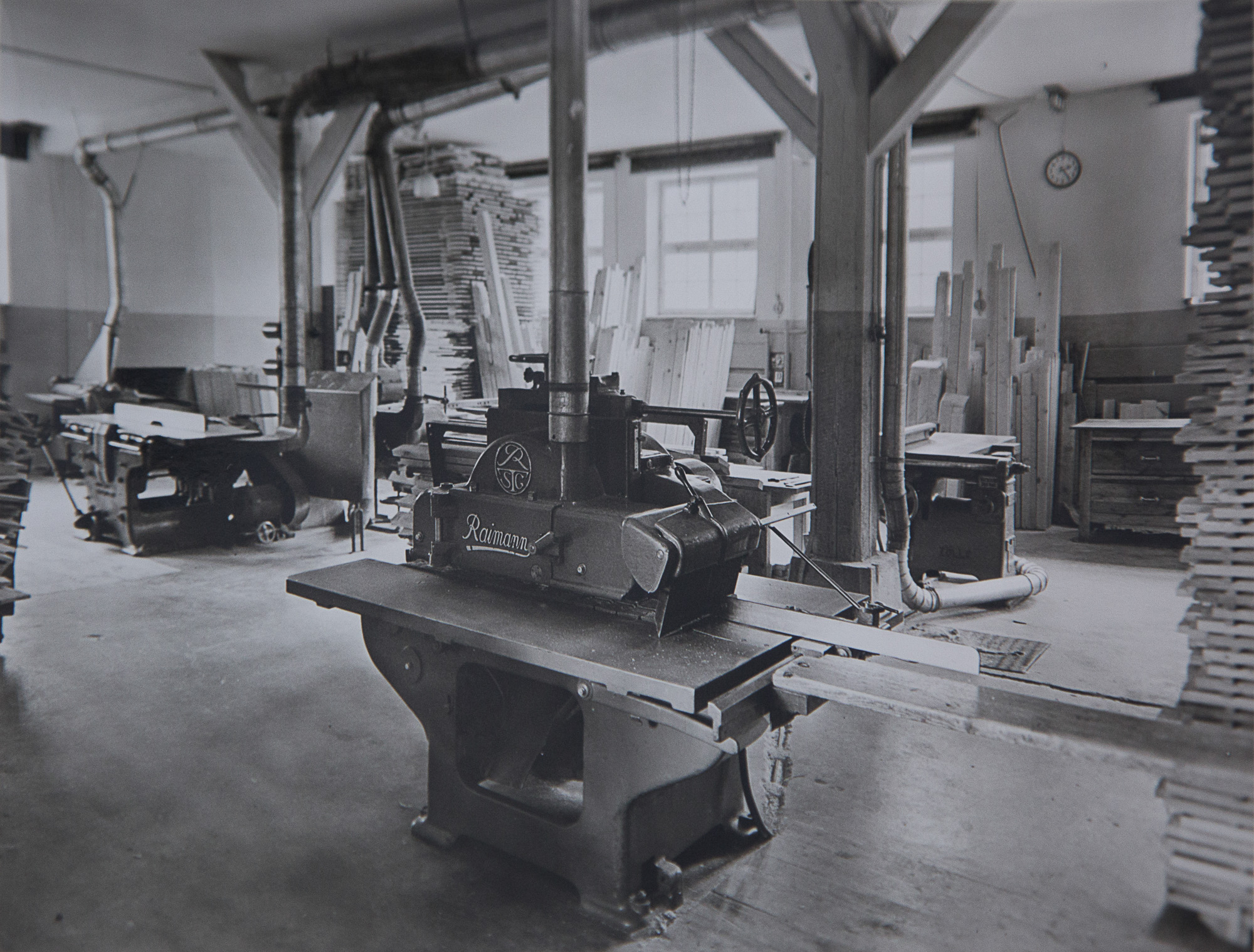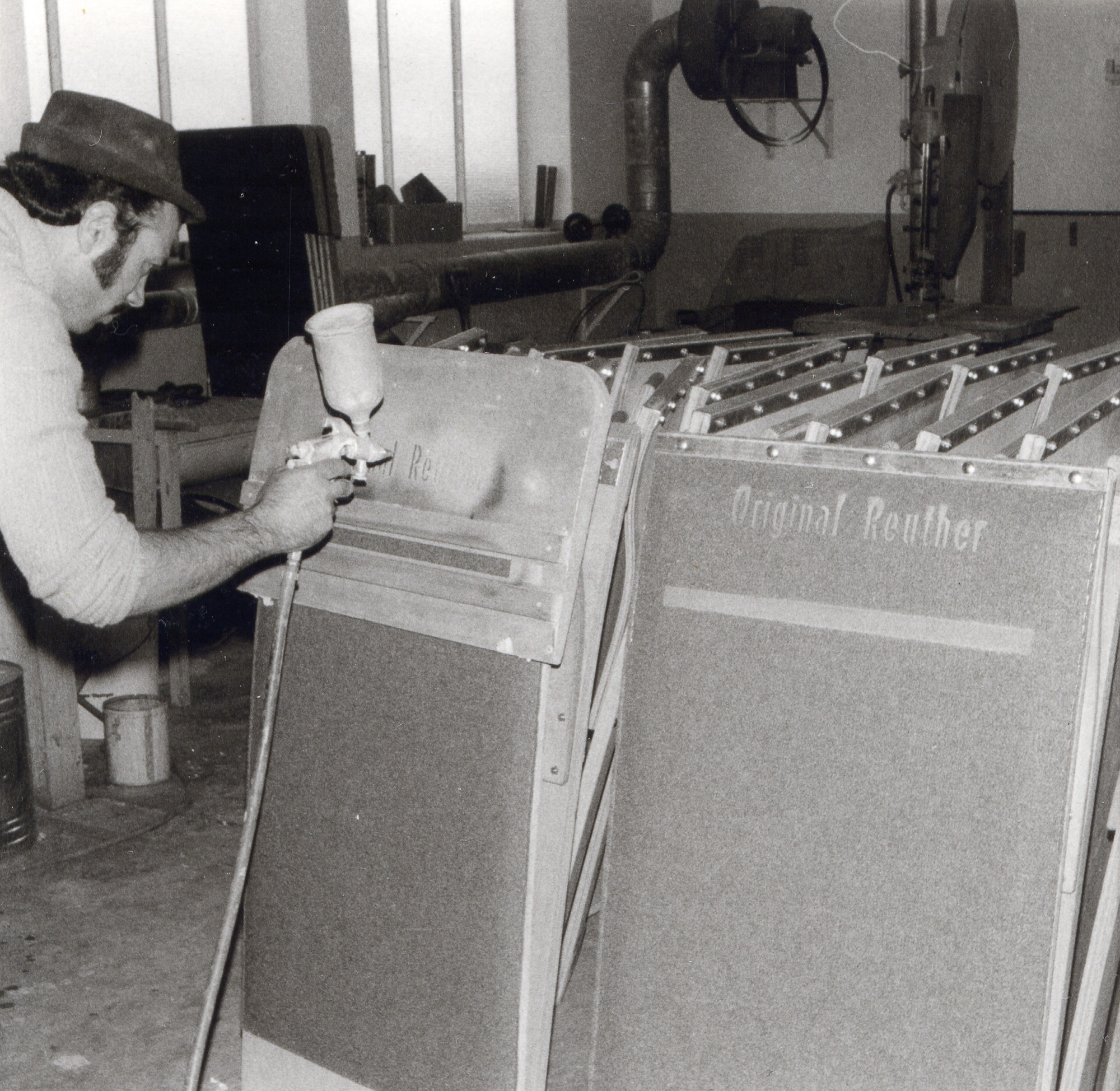 Invented by SPIETH
The company was founded in 1948 by Rudolph Spieth. Richard Reuther, gymnasts and designer, developed the principle of initial tension in the 50s, creating the industry standard for modern gymnastic equipment. With its motion-supporting and forgiving design, he and Rudolph Spieth together revolutionized the manufacture of gymnastic equipment and thus created an trademark: Original Reuther.
Innovations by SPIETH have been fostering development in artistic gymnastics for decades. The following is just a selection of our market-leading innovations:
1953: Elastic springboards
1960: Double swing floor
1965: Tensioned uneven bars
1967: Rail for parallel bars with 3 fibreglass inserts
1974: Balance beam made of aluminium
1974: Double tensioning for horizontal bars / still rings
1975: Mats with sandwich construction
1983: Two-parts elastic vaulting horse
1988: Break-proof bars
1993: Elastic Rhythmic gymnastics floor
1994: "Just for Kids"-Gymnastics
2000: Vaulting table, as replacement of the vaulting horse
2007: Aerobic floor
2009: Freestanding Uneven Bars
2013: First Swing floor with steel springs
2013: "Just for Kids"-product series is expanded
2014: Vault "Ergojet Rio"