NEW LOGO, SAME VALUES - We are starting into a BLUEtiful future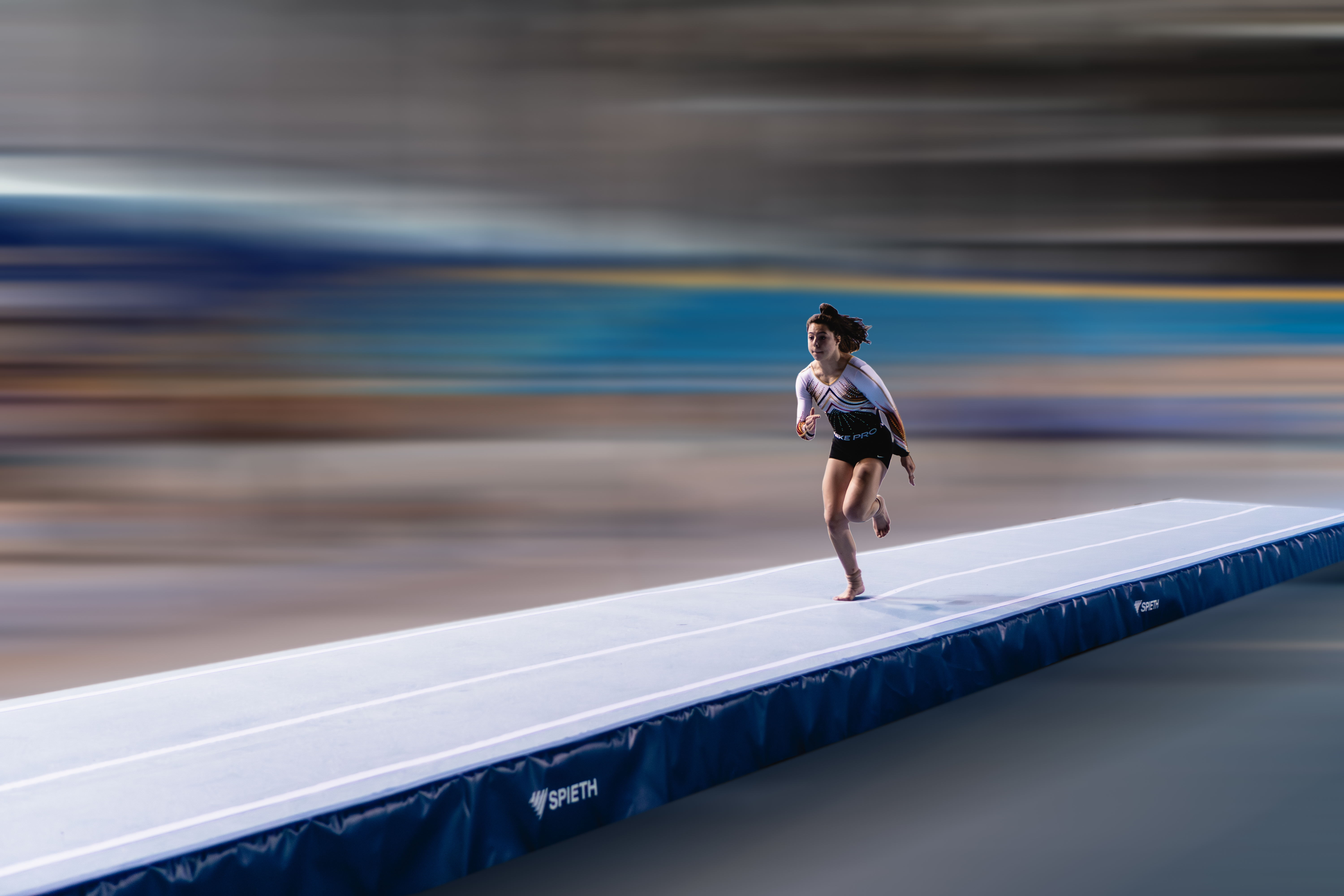 The new tumbling track "SPIETHway Evolution"
August 2, 2023
News about products and offers
The new reference of FIG-certified tumbling tracks on the market! The consistent further development of the proven "SPIETHway" series offers the optimal combination between maximum rebound effect for the most demanding tumbling elements and damping of the unwanted force peaks to protect the joints both in training and in competition. The overlying roll mat composite with skin-friendly, durable needlefelt-velour surface in combination with an integrated mesh fabric ensures longer durability even during intensive use. Metal connectors with "QuickConnect" system guarantee a stable connection of the individual elements while minimizing set-up and dismantling times during events. The track is also proven as training equipment for artistic gymnastics and acrobatics. Customized tracks are available on request, for example for permanent installation in gymnastics centers. A suitable run-up track and landing area are available separately.
Technical details
21 steel frame single elements, 120 x 200 cm
glassfiber spring system with pressure distribution plates
anti-slip rubber feet
total height: approx. 30 cm
total length: 25,20 m
Features:
Max. rebound for the most demanding tumbling elements
Gentle on the joints due to special roll mat compound
Quick assembly and disassembly due to "QuickConnect" system
Learn more about the new features of the tumbling track in the product teaser:
Tumbling Track "SPIETHway Evolution" - 25,20 m
The new FIG-certified tumbling track is now available! The consistent further development of the proven "SPIETHway" series offers the optimal combination between maximum rebound effect for the most demanding tumbling elements and damping of the unwanted force peaks to protect the joints both in training and in competition. The overlying rollable mat composite with durable needlefelt surface in combination with an integrated mesh fabric ensures longer durability even during intensive use. Metal connectors with "QuickConnect" system guarantee a stable connection of the individual elements while minimizing set-up and dismantling times during events. The track is also proven as training equipment for artistic gymnastics and acrobatics. Tumbling tracks in inidiviudal lenghts are available upon request, for example for permanent installation in gymnastics centers. A suitable run-up track and landing area are available separately. TECHNICAL DETAILS - 21 steel frame single elements, 120 x 200 cm - glassfiber spring system with pressure distribution plates - anti-slip rubber feet - total height: approx. 30 cm - total length: 25,20 m Height structure: 23 cm steel frame 4.5 cm foamtrack 2.5 cm Triflextrack